High-Density Plastic Shopping Bags
(T-shirt Bags)

14 micron - Light Duty ?nbsp;18 micron - Heavy Duty
Did you know that our plastic shopping bag products are also recyclable? Not only are they recyclable, but they are also reusable! These strong bags are made with gusseted plastic and have large carry handles. All of our shopping bags are sold at wholesale prices, and we have special prices for cases of 10 or more. Check out our selection of products below.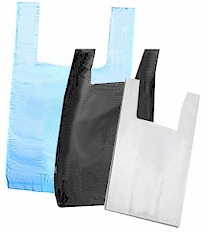 For 10+ cases, call for discounted prices!
Due to market volatility,
please call for pricing